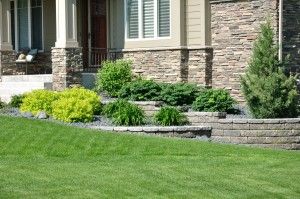 A commonly overlooked issue with landscape design, patio or retaining wall construction is water mitigation. However, controlling the way water flows across your landscape is often the key in preventing serious water damage, structural issues, and expensive fixes. We see many retaining walls fail due to hydrostatic ground pressures, which are chiefly caused by poor drainage—and that's just the start.
Because we understand what's at stake and are consistently dedicated to providing you with the best landscape service possible, we always assess all of these issues when preparing your estimate and explain to you our findings. After we evaluate the risks, we draw upon our experience, knowledge and training in landscape design in order to provide you with the best possible solution so you can have a property that perfectly blends aesthetics and function.
The problems that we see that may require landscape drainage solutions include:
Surface Water
Hardpan Layers
High Water Table
Over a decade of qualified experience, training from the very best, and a dedication to always performing quality work and providing our clients with Well Done Landscapes, we work to understand your landscape services needs best. In this way, we can provide you not only with detailed design, flawless installation and reliable maintenance, but with the drainage solutions you need to make your property last season after season.
Contact us today to learn more about our drainage solutions, and schedule your appointment now!