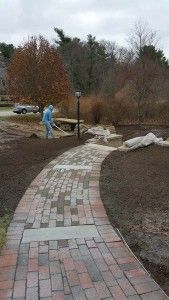 Hardscape installations are the perfect way to bring your property the right touch of elegance and function to complete your landscape design, flowing naturally from your home. Stunning stonescapes, winsome walkways, and perfect patios can each create an outdoor environment that is both pleasing and practical.
With over 10 years of experience and trained by some of the most innovative experts in the field, our team is able to design and build your hardscaping in such a way as to give you results that will last a lifetime. We have a thorough appreciation of old-world techniques and cutting edge products so that you get the craftsmanship that will last for years to come and the look that provides you with an outdoor oasis of your dreams. Our team works with you on a personal level do provide you with the ultimate in landscape design, focusing on building lasting customer relationships through honesty, integrity and excellence: values which we build all of our services on.
Not only do our technicians provide a level of detailed installation that is not commonly found in this industry, but we provide you with a design team who is passionate about landscape architecture—and for good reason. We make hardscapes an art form, allowing the design to echo your tastes while uniting your home and your lawn in a unique and stunning way.
Contact us today and let us help you with your hardscapes. Using only the best natural stone, clay pavers, decorative pavers, and other materials, we are able to bring aesthetic function to your property with:
Pool Aprons
Walkways
Patios
Garden Design
Retaining Walls Construction
And So Much More